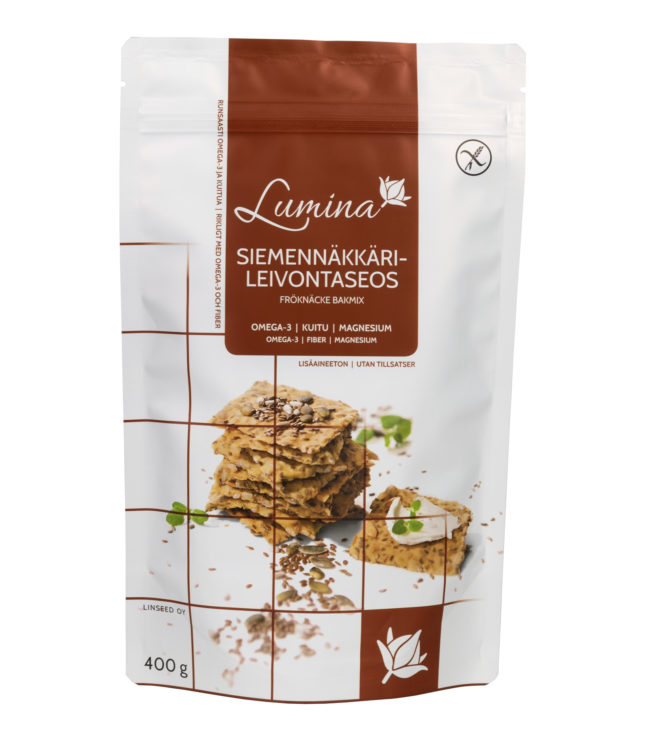 Lumina Crisp Bread mixture is a naturally gluten-free product made by Linseed Oy that contains Finnish flax!
The product is:
gluten free
lactose free
soybean
additive free
irresistible
The product contains:
wonderful seeds
rich in omega-3 fatty acids
rich in magnesium
high in protein
high in fiber!
One bag bakes two baking tins of crispbread. Mix only hot water and a little bit of oil into the ingredients of the bag.
Tip: Use lemon, basil, or garlic flavored oil to add your own flavour! Sprinkle salt on top!
To buy oneline Lumina Siemennäkkärileivontaseos 400g
Ingredients
Cornmeal, sunflower seed, Finnish flax seed, pumpkin seed
Nutritional content 100 g
Energy1998 kj (477 kcal)
Fat 26 g
Saturated fatty acids 3,3 g
Carbohydrate 41 g
of which sugars 1,4 g
dietary fiber 7,9 g
Protein 16 g
Salt 0 g

Magnesium 223 mg
59% of recommended daily intake
Omega-3 fatty acids 3,5 g