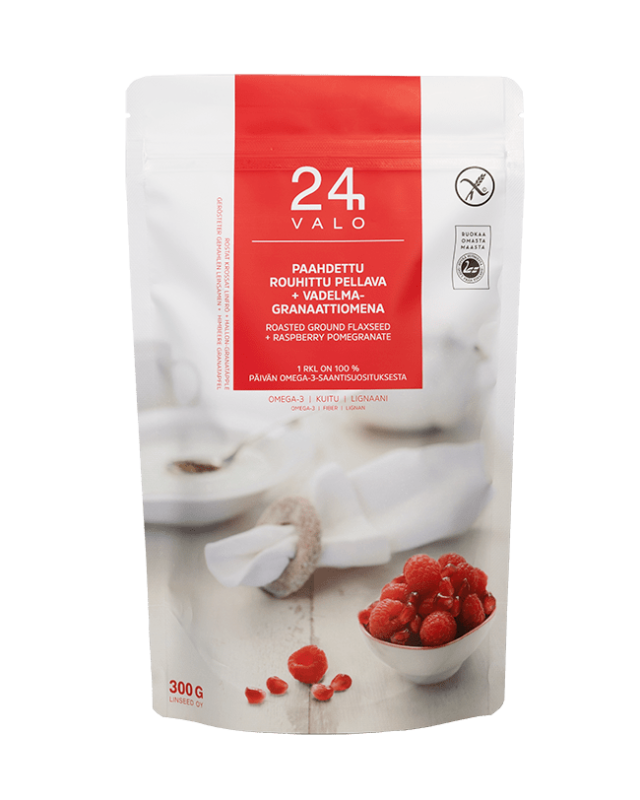 Make your day crunchy with Valo24h roasted ground flaxseed + raspberry pomegranate!
Use flaxseed on top of your yoghourt or porridge, in your smoothie or as a crunchy element, in salads & soups.
Use in baking in all of your favourite recipes in same ratio as nuts.
In all of the Valo24h products the flaxseeds are roasted which gives the flaxseed best nutty flavour and quality.
One tablespoon a day is 100% of your daily portion of omega-3.
Valo24h flaxseed contains also tummy soothing fiber.
Valo24h flaxseed combines water which gets you to feel full with already small amounts of product.
One tablespoon contains fifth of your daily need of magnesium.
Valo24h is complete source of plant based protein containing all the necessary amino acids.
And above all, the taste is amazing!
Buy online Valo24h roasted ground flaxseed + raspberry-pomegranate 300g
Ingredients
Roasted ground flaxseed 88%, dried raspberry 8,5%, pomegranate juice concentrate 3,5 % gluten-free maltodextrin as a drying aid.
Nutritional Content 100 g
Energy 2215 kj (529 kcal)
Fat 39 g
Saturated fatty acids 3,7 g
Monounsaturated fatty acids 5,3 g
Polyunsaturated fatty acids 30 g
Carbohydrate 11 g
of which sugar 4,1 g
Dietary fiber 28 g
Protein 19 g
Salt 0,01 g

Magnesium 369 mg
98% of recommended daily intake
Omega-3 fatty acids 23 g
Omega-6 fatty acids 7 g
Lignan 0,5 g