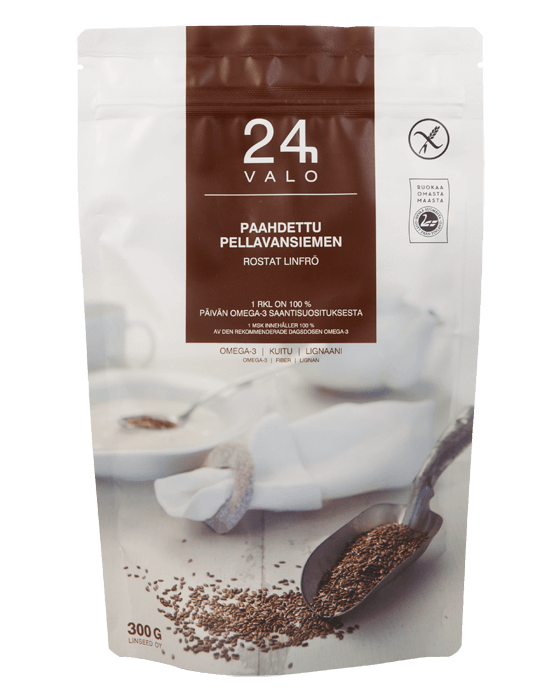 The roasted Valo24h whole flaxseeds have a crunchy hazelnutty flavor. The new roasting technology crisps the whole flaxseeds. They are easy to chew which allows all the good nutrients to be absorbed.
Flaxseeds have soluble fiber which balances the rise of blood sugar after meal and increases the feeling of satiety.
The roasted Valo24h flaxseeds can be used in salads, pastries, porridges, yoghurts and muesli. In baking the seeds should be dissolved in warm dough liquid for at least 20 minutes. This will create tasty and luscious bread which maintains the feeling of freshness for a long time.
The product is suitable for low-carbohydrate diet and for people with celiac disease.
Ingredients: Finnish roasted flaxseed (100 %)
Ingredients
Finnish roasted whole flaxseed (100%)

Nutritional content 100 g
Energy 2318 kj (554 kcal)
Fat 44 g
Saturated fatty acids 4 g
Monounsaturated fatty acids 6 g
Polyunsaturated fatty acids 34 g
Carbohydrate 4 g
of which sugar 0 g
Dietary fiber 29 g
Protein 21 g
Salt 0 g

Magnesium 419 mg
112% of recommended daily intake
Omega-3 fatty acids 26 g
Omega-6 fatty acids 8 g
Lignan 0,6 g